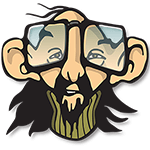 Mephisto Man Bear Alien Pig X 3BOG
Fast grower. In Roots Organic, this strain runs about 24″. In coco/perlite I get at least a 3-foot plant. Resin covered for sure. Presses out consistently at around 20% return.
All shoots drive out to form a dozen amazing colas.
ManBearAlienPigX3BOG is sensitive to Nitrogen. Watch out for early NTox.
Typical cross effects. MBAPx3BOG is very psychedelic settling into more body effects. Potent skunk smell even when in the seedling stage. Very loud when flowering.
Grapefruits, Lemons, a tiny bit of Orange Zest wrapped with a little Pine and crushed by a Skunk so potent it borders on Cat Piss.
95% germination rate test (19 out of 20 randomly picked seeds).
If you are new to autoflowers, check out the Beginners Autoflower Grow Guide.
Mephisto doesn't currently offer this strain so I don't have a link to purchase it directly from Mephisto.
USA Shipping Only.